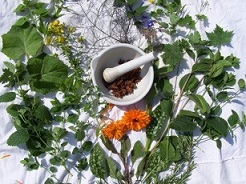 Wild Medicine, Wild Food. Collecting and Connecting - Sunday 12th July 2015
Walking in nature and gathering medicines and foods is something our ancestors did for survival but also as a means of feeling and being connected to the natural world. There is no simpler and more powerful way to feel a sense of connection and belonging and it is just as powerful for us today.
This is a day of learning how to identify local 'weeds' and opening to their many healing and nourishing properties. We will journey into the wild and bring back many wonderful foods and medicines, for mind body and soul.
This day will give you the skills and confidence to identify herbs, gather them in a careful and respectful way and how to use or store them . We will make a whole range of wonderful remedies including tinctures, ointment, poultice decoction and infusion, to treat many minor ailments as well as discovering how we can add wild food to our diet helping us to nourish ourselves more deeply.
Using wild plants can be a path towards healing on so many levels – do come along and enjoy!
All materials will be provided except jam jar and enough vodka to fill it for tincture making.
Ross Menzies is tutoring this course. He has been practicing and teaching herbal medicine for 15 years and runs a clinic in Hexham. He is passionate about helping people to develop confidence, practical skills and intuitive ability in their work with plants.
10am to 4pm
£50 per person, including lunch and refreshments
Please use the contact form to request further information and a booking form
---