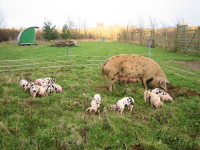 The Pigs at Old Sleningford Farm
Our sow, Dumpling, is an Oxford Sandy and Black which is a very rare breed of pig. She was born on the farm, one of our previous sows (Plunky) piglets. She is very calm and friendly and is a good mum.
She has 2 litters of piglets each year and she goes to see Gee Gee, a Gloucester Old Spot boar, to be mated. Pigs are pregnant for 3 months, 3 weeks and 3 days and Dumpling has had litters of 6, 13 and 9 so far. She is due her 4th litter around the 9th of June 2012 and we all have a guess as to how many piglets she may have each time.
We keep 2 or 3 of each litter of piglets for meat for ourselves, the rest go to new homes when they are weaned at about 8 weeks old. The meat is quite dark, marbled with fat but not too much fat on the outside. It's a good all round meat, making tasty joints, chops, sausages, bacon, salami and dried ham.
We run courses on pig keeping, sausage making and curing and smoking food. Upcoming dates are on the Courses and Events page and you can see pictures and information about previous courses on the Past Courses and Events page.